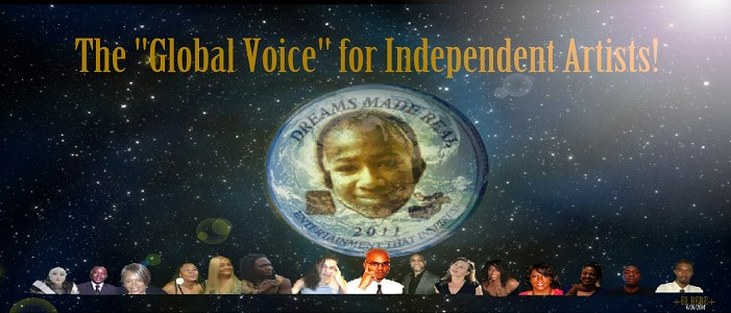 We are very excited to finally announce the Songs that were chosen to be on our very first album titled DMRpresents: "Global Voices" Vol. 1.  This album will be a Compilation featuring uplifting songs from more than 10 musical genres by Artists from over 10 different countries.   We selected 25 Songs to be a part of this album!  See the Artists and hear their great Songs below! 
We would like to thank All of the hundreds of artists from the over 30 countries that submitted songs to us for a chance to be a part of this album.  Please subscribe to our blog keep up with the latest News, Events, and Contests by Dreams Made Real.  Also, keep sending us your uplifting songs, videos, and writings because we will continue to offer the service of promoting them for Free through our multiple websites.
This Compilation is one part of our larger first Project that also includes a Concert, featuring these Artists, that will be held in Atlanta, GA as well as a Documentary Film about our company, the Artists we promote, and our new, All-Positive Movement.  The Concert and Film will both be titled DMRpresents: "Global Voices United".  We need $150,000 – $175,000 for our Budget for this Project.  We will not set a release date for these events until we have raised at least half of the funds needed.  
You can Support the Movement and our Project by commenting on our Blog posts, sharing our content with your friends,  entering our Contests, and purchasing our Products!  Also, stay tuned as we will soon be launching our first Kickstarter campaign for our Film.  Thanks and feel free to leave your comments below or contact us!
(Click on Artist picture or Song name to hear the Song!)

Please follow and like us: